A Natural consequence of the ageing process
Facial Sagging treatment
in bexhill
Before
After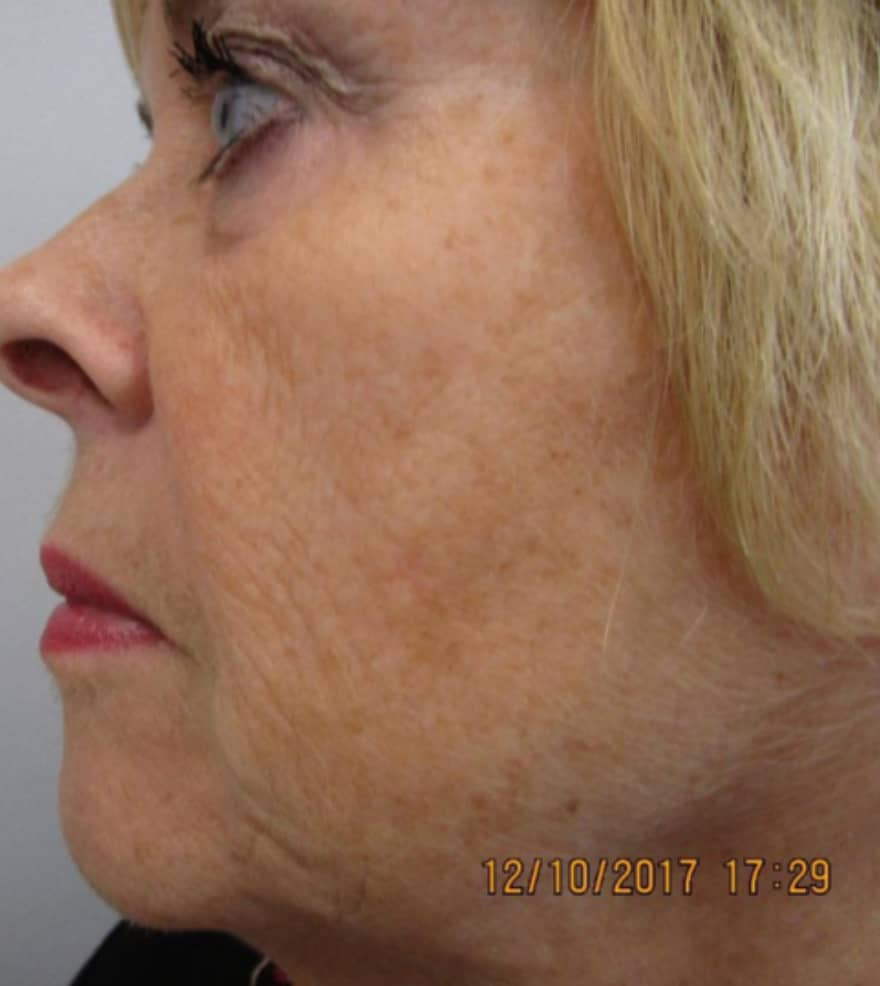 A sagging face is one of the most prominent signs of ageing. Typical signs are lowered cheek muscle pads, jowls, and visible neck bands; in simple terms, things head south!
Facial sagging is due to a number of reasons. Firstly and primarily it is a natural consequence of the ageing process. As we age the components (elastin and collagen) that are responsible for maintaining elasticity, rebound and firmness starts to break down. This results in looser skin, fine lines and eventually deep wrinkles.
Other factors such as sun damage, weight loss, smoking, over exercise and a poor diet can speed the whole process up and promote early ageing of the skin. Lifestyle habits, such as frequently looking down when using computers or phones are a modern day factor, as are our increased stress loads.
To add to the problem, the muscles in our face are also weakened by age so the support that they give already loosening skin is reduced and increased sagging is apparent.
Recommended Treatments for Facial Sagging:
The good news is that there are now a number of non-surgical treatments that provide outstanding results for signs of facial sagging. Here at The Cooden Medical Group we recommend the following.
WHY CHOOSE
COODEN MEDICAL?
WHY CHOOSE
COODEN MEDICAL?
"Highly recommend to anyone wanting a professional and friendly service. All the staff were welcoming on every visit, the clinic is very clean and tidy. My treatment involved laser hair removal. Jodie helped me relax and made me feel comfortable. Thank you!"
"Great clinic – smart and clean. Professional and friendly staff who take time with you to ensure that you understand the treatments, and that the results match what you want to achieve. Very happy with Dr Dickinson."
"Professional and friendly. The clinic and staff follow covid safe protocols and therefore I felt safe from the moment I arrived to when I left. My consultation was very safe and any concerns I had were swiftly eliminated."
"Very warm and welcoming. Real experts and extensive knowledge on the best treatment plan for my needs."
"I would not go elsewhere, always a pleasure to visit for top quality treatment. Everyone is so friendly and the clinic as you would expect is spotless."
"A genuinely fantastic experience right from the initial booking all the way through attending the clinic and the fabulous follow up service. An earlier slot came up and I received an email on Sunday evening allowing me to be seen the following day. I cannot recommend them highly enough."
The clinic is situated on the corner of Little Common Road and Peartree Lane, directly on the Little Common roundabout opposite the pelican crossing. There is two hour restricted parking on the nearby roads.